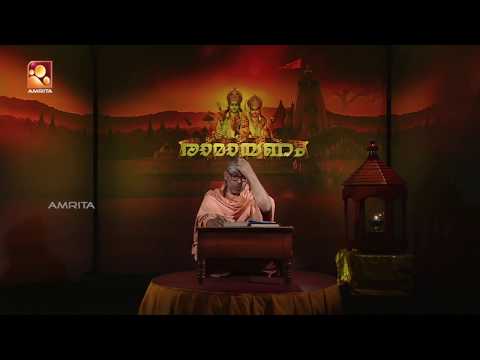 WATCH VIDEO
Download
Download
493 views
17 Likes 1 Dislikes
Subscribe to Amrita Television ► http://bit.do/amritatv

About The Show :-

Amrita TV's "Ramayanam", is a rejuvenating spiritual discussion on the Ramayanam, interpreting the sacred verses and explore its relevance in the contemporary world. The presenter of the show is Sampujya Swamy Chidananda Puri, Advaithashramam Calicut.

Swami Chidananda Puri is popular globally and especially among Malayalis. For the last 28 years, Swamiji is working hard to spread the message of Sanathana Dharma by conducting Vedanta Classes, delivering lectures and publishing books. Alongwith these daily programmes, Swamiji actively intervenes in matters connected with Sanathana Dharma. In addition to the regular discourses at various places in India, he has delivered speeches in many countries like Sultanate of Oman, U.A.E., Czech Republic, Italy, U.S.A, U.K. and Singapore. His Siksha Guru is Parama Poojya Swami Vimalananda Puri Maharaj (Madhavananda Ashramam, Mahemadabad, Gujarat). Accepted Sannyasa Deeksha from Parama Poojya Swami Vidyananda Giri Maharaj of Kailasashramam, Rishikesh in 1989. Established Advaithashramam at Kolathur village in Kerala in the year 1992. Later started Bhrahma Vidya Peethom, a centre of Vedanta studies, at the Ashramam. Swami Chidananda Puri is the founder and managing trustee of Sri Sankara Charitable Trust which is running six Ashramams in different parts of Kerala actively working to spread the message of Sanathana Dharma in general, and Vedanta in particular. Swami Chidananda Puri heads Madhavananda Ashramam, Mahemadabad, Gujarat. He is the Visiting Professor at University of Calicut (Sanathana Dharma Peethom- centre for Sanathana Dharma studies and research). Author of more than 35 books. President of the Kerala Chapter of Margadarsak Mandal, the association of Sannyasins and Chairman of Sanathana Dharma Parishad, umbrella organization of various ashramams, maths and similar organisations functioning in Kozhikode.

Honoured by many Awards like,

1. Madhavji Puraskaram
2. Swami Siddhinathananda Puraskaram
3. Panditha Ratnam Puraskaram
4. Panchajanyam Puraskaram
5. Janmashtami Puraskaram
6. Pandit Karuppan Puraskaram
7. Yati Yajnavalkya Puraskaram
8. Abhedakeerthi Puraskaram

Watch Ramayanam Monday to Friday @ 7:00 AM only on your own Amrita TV!!!

Follow us on :-

Website ► https://www.amritatv.com
Face book ► https://www.facebook.com/amritatelevi...
Twitter ► https://twitter.com/amritatv
Pinterest ► https://www.pinterest.com/amritatv/
YouTube ► https://www.youtube.com/amritatelevision

About the Channel:-

Amrita Television, the 24-hour global Malayalam channel that re-defined the entertainment perspective of Malayalees, has completed a decade of successful journey. Established in April 2005 as a FTA GEC- cum-News channel, it has a global footprint covering Australia, Singapore, Middle East, Europe, UK, USA, Canada, South Africa and still growing. With the powerful backing of a great organization like Mata Amritananthamayi Math, standing firmly on the foundation of our rich culture and with the help of state-of-the-art technology, Amrita TV started delivering a unique blend of value-oriented family entertainment and news programs and also earned the distinction of one among the most awarded channels in India, within a short span of time since its inception.
Amrita TV has many firsts to its credit on Malayalam Television, introducing: The first full- fledged Music reality show for youth- Super Star (2006); Dance Reality Show- Super Dancer (2007); Reality show for young mothers in South India- Vanitha Ratnam (2007); India's first regional talent hunt series in Citizen Journalism- Best Citizen Journalist (2008); Innovative social justice program/television adalat- Kathayallithu Jeevitham (2010); Daily 30-minute news bulletin on Health and Education- Arogya Varthakal and Vidyabhyasa Varthakal (2010); Reality show for Christian Choir Groups- Deva Geetham (2011); Half hourly, 2-min capsule news bulletin for round the clock news updation-Spot News (2011); Reality show on Malabar folk songs shot entirely in the Gulf- Kasavu Thattam (2012); 30-minute news bulletin on Cinema and Sports- Shoot & Track (2012); Reality show on Fitness, Fashion & Personality- Super Model (2013) & Celebrity cooking-cum-chat show- Annie's Kitchen (2015).
Amrita TV is now available in India and globally on premier Cable, IPTV, DTH platforms and is active in all digital platforms and Social Media. It is the second largest Malayalam video channel on YouTube in 2015.
To keep pace with the changing tastes of our viewers, irrespective of age, Malayalees' favourite channel is on its race towards more creative achievements and innovative shows.